Hello, first-time wig wearer! Wondering what type of wig would be the best for a first purchase? Perhaps you are nervous about wearing a wig for the first time. Don't worry, we've got you covered whether you want to feel comfortable wearing a wig for the first time in public or want to avoid the same mistakes most first-time wig wearers make. Read on for some awesome guiding tips!
First-time wig wearers tip #1: We recommend a synthetic wig as your first
---

We would suggest going for a synthetic wig as your first ever wig. Why? This is because when purchasing the first wig, most people tend to buy a very expensive wig that later they barely use. This is a common phenomenon called "the emotional wig" among wig wearers. Remember, human hair wigs are not necessarily better than synthetic wigs and if the wig is more expensive, it does not mean, it is better. A good quality synthetic wig can look as natural as an average human hair wig. That is why, for a first-time wig wearer, a good tip to follow is to get a GOOD quality synthetic wig first.
 Why? Human Hair wigs tend to be more costly. If you want a really good, realistic-looking human hair wig, chances are, it will cost even more. Most people when buying their very first wig they tend to buy an expensive wig which later they end up not liking. A good quality synthetic wig will look as realistic as a good quality human hair wig.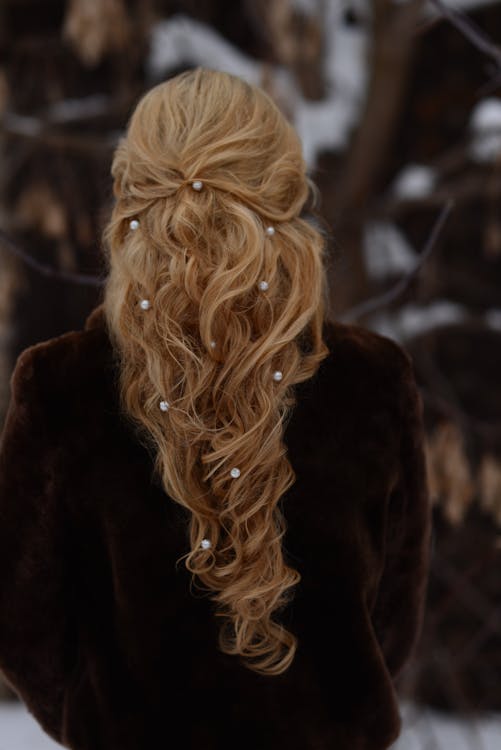 Synthetic hair also does not lose its style after the wash and comes in much more choices of colours than human hair due to its limitations.
Don't get me wrong, high-quality human hair wig can look extremely natural but in order to get a human hair wig that is very high-quality, you have to look at Remy human hair wigs; Remy human hair wigs cost even more than regular human hair wigs. For a first-timer, this might be a commitment you want to make after a few experiments with less costly wigs that are also high quality.
First tip: We recommend synthetic wigs for first-time wig wearers  

Human hair wigs are a good choice but they require the know-how of wigs and are often more expensive

A good quality synthetic wig will look more realistic than a not so good quality human hair wig 
A synthetic wig keeps its shape and style after a wash but a human hair wig requires styling
?Here you can browse our selection of Synthetic Wigs 
---
                                       Try your wigs before making payments at Masumi!
---
Worried about the limitations of online shopping? Masumi can be like your physical store! We offer the buy now pay later option with Klarna. You can try your wig before you go ahead with your payment. We will always accept returns within the first 14 days of the invoice, so you have plenty of time to see if you're happy with your purchase. Returns will be accepted so long as the product is not damaged, styled, or has product, perfume or cigarette smell on them. We also offer payments in 3 instalments, for more details you can look at our buy now pay later or in 3 instalments blog. 
First-time wig wearer tip #2: What is my wig cap size?
---
Generally, wigs have 3 sizes, small, average and large – average will fit most people, however, have a look at the size chart to be sure;
Small: 51 to 54cm (20/21.25 inches)
Average: 54 to 57cm (21.25/22.5 inches)
Large: 54 to 57cm (22.5 – 23.5 inches)
Most wigs come with adjusters at the back which will allow you to make it slightly larger or smaller depending on your size.
First-time wig wearer tip #3: Nervous about wearing your wig in public for the first time? Pick a wig that looks like your natural hair
---

This is a common psychological trick to get used to wearing wigs. You might feel more comfortable sporting a wig that looks like your real hair. If you're still feeling a little nervous, go somewhere you won't see people you know. Do your groceries wearing a wig to get a feel for what it's like. Eventually, the first nervousness will fade!
First-time wig wearer tip #4: You will need a wig saver to dry your wigs after a wash and to preserve them.
---
Wig savers (or wig stands) will hold the cap in place preserving its quality and potentially increasing its lifespan, saving you money in the long run. This is also the ideal way to dry your wigs – by placing the washed wig on the stand and letting it dry. Remember, most synthetic wigs are not heat resistant and blow drying will damage them. For long-length wigs, you will need a longer wig savers.
We offer portable wig savers that take minimum space when folded;
Quick video on how to use foldable wig stands
We hope we've helped you get valuable information before your first wig purchase and helped to wear your wig comfortably and be the brave new you! If you have further questions, we would be delighted to help you! Please do not hesitate to contact us: [email protected]
-Masumi Headwear